More Than a Room: Boy Bedroom Ideas and Design
Picture Credit:Smith Firestone Associates Interior Design. Lovely sky theme with amazing coordination of colors and elements. Two thumbs up 
When your little baby boy is out of the crib, he needs a room that meets with his demands. A bedroom is actually established as his future cave until being a teenager and should show his personality. As being a mother of two different genders, I honestly say that boy bedroom ideas and  design takes more time than the girl bedroom design.
I would like to mention some good to know basic elements and then share some inspired pictures for every detail. This e-book style new category, boy bedroom ideas will make your project easy to handle.
The elements that I would like to share with you are; bed styles, themes, wall colors, rug and curtain style and colors, bedding, boys bedroom furniture and accessories. In each article I would like to put the much-related pictures and give and idea to your fun work.
What Kind of Bed Style and Size You Should Pick for a Boy Bedroom  Ideas?
Platform bed, low post bed, day bed, loft bed, captain's bed or chest bed, Ottoman bed, sleigh bed, and trundle bed or bunk bed can be a good match for boy bedroom ideas and designs. But you can go some custom made beds or extreme makeover beds like a truck or boat. The twin size or full size bed is chosen related to the room size or sleeping habit of the boy.
Platform Bed With Wall Mural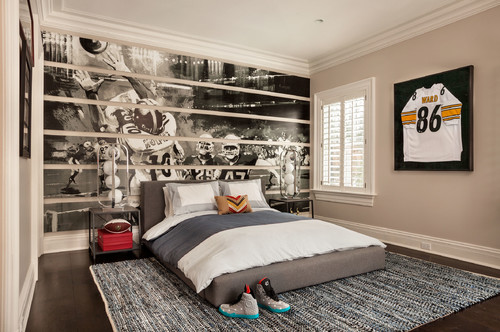 Picture Credit:Garrison Hullinger Interior Design. The mural brings very good taste to this simple room. I like the color of the wall that matches with platform bed and bedding completed with rug. Very well inspired.
What Kind of Theme You Should Focus for a Boy Bedroom Ideas?
Time to talk to your little one, ask him what he wants. Try to figure out the most lovable theme and help him to enlarge his personality. Of course, make sure to check the picture together I picked for you.
I looked up online and found some themes. If you would like to add some more themes, you are more than welcome.
Here are my favorites: Pirate ship, ocean, nautical, submarine, race car, sport car, sport team or sport, knights, dragons, dinosaurs, space, forest and nature, tractor, fire truck or fire station, ambulance, construction, bridges and ways, trains, farm, western, safari animals, farm animals, any favorite animal or pet, military, lego, geography, music ,travel, and native life.
Nature Theme Design with Loft Bed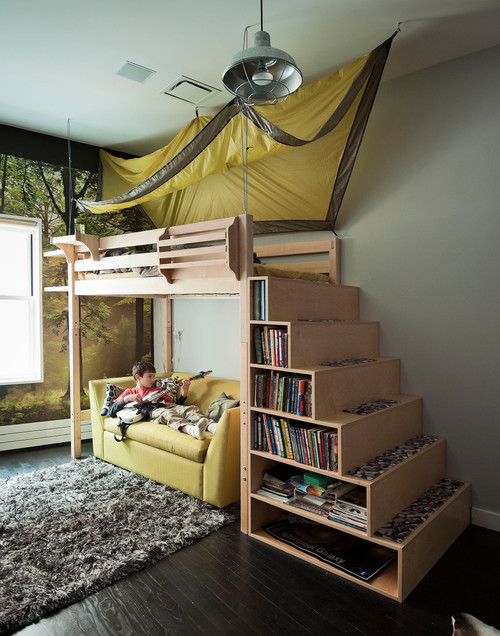 Picture Credit: Tamara H Design. Lovely nature theme loft bed in a boys bedroom. I like the shaggy ruth and carpeted steps . Tent idea is very unique.  Very cool design.
What Kind of Wall Color Goes Well in a Boy Bedroom Ideas?
The selection is not endless, but sometimes brings some difficulties in the boy bedroom ideas and design. The theme helps to go right with color. For my opinion, blue, navy blue, white, green, gray, brown, khaki, beige, orange,red and multicolor could be taken as wall color.
Rug and Curtains for Boy's Bedroom Ideas
If the theme is simple you can put the theme on the rug, if not always-plain color or very fine motives is enough for a boy's room. The type of curtains you can use are: Tap top, Grommet, Rod Pocket, plain top and Cartridge pleat, sometimes lined curtains and flat panels can be a good match in your theme.
Plain Area Rug and Curtain with Railway and Traffic Theme Boy Room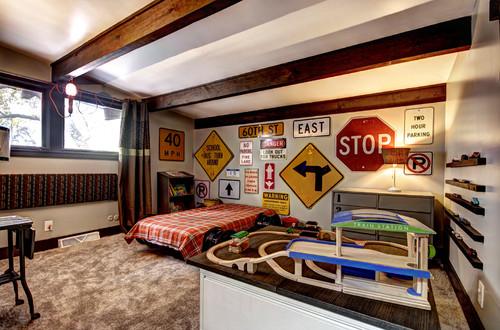 Picture Credit: Interior Designer Mindi Freng , picture was taken by Kaity Bruinsma. Things that go theme is in harmony with all elements that I look for. Great taste!
Boy's Bedroom Furniture Ideas
Beside the bed, your boy needs some drawer dressers; night table, little desk and chairs depend upon the room size. May be little bookshelf, or sometimes a little guest chair could be a sweet addition.
Drawer Dresser , Guest Chair and Night Table for Boy Bedroom Design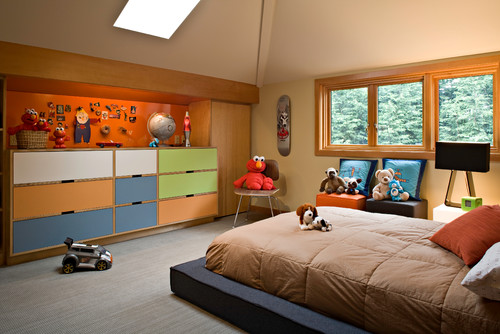 Picture Credit: Sam Van Fleet Photography. Nicely organized drawers, platform bed and guest chairs that a boy can need. Cute.
What Kind of Accessories Can be Used in Boy's Bedroom Ideas?
Again the theme is the most identical clue for the accessories. Usually a boy's bedroom has monograms, names, name tags, frames, toy style accessories and puffy  accent pillows like girl bedroom has.
Name Tag and Accent Pillows for a Boy Room Design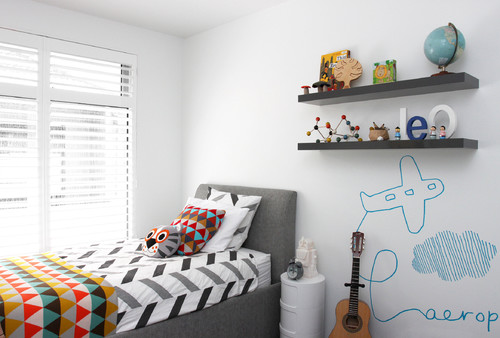 Picture Credit:Hide&Sleep Interior Design. I like the idea of putting the name on the shelf and accent pillows. Such an accessorized boy's bedroom.
Boy's Bedroom Bedding Ideas
I would like to show as many pictures to make a vision in your mind. But as a basic explanation, bedding should be in harmony of colors and themes. Sometimes matching curtains and rug with beddings bring complete effect to the room.
Thank you for reading my article. Please make it richer by adding your comments, I will be very glad.