Seeking the Right Cabinet: Kitchen Cabinet Ideas
In kitchen cabinet ideas, you might be confused and you need a guide for kindling. The parameters you should focus are being very helpful to solve the snafu: Your kitchen layout, your target functionality, your material, your color and model selection, and your cabinet hardware are to be concerned. Of course the budget is the very strong indicator to make your dream kitchen by using kitchen cabinet ideas. Then, as I mentioned in my countertop article, wall color, granite top color, backsplash and floor color are harmonized.
Kitchen Layout
When you look for the kitchen cabinet ideas, kitchen layout determines your cost. From the cheapest to the most expensive layouts are: Single, Galley, L shaped, U shaped and G shaped. Island is also an additional.
Target Functionality of Kitchen Cabinet
Base cabinets and Wall cabinets are used for to carry the best way of functionality.  Built-in Cabinets are novelty this year.  You may pick up the option of organizational cabinets, workstation cabinets and decorative cabinets to make your dream cabinet true. Organizational cabinets are: base pullouts, wall pullouts, trimmable trays, and adjustable shelves. Workstation cabinets can be categorized as: Hood cabinets, pull out shelf trays, wine shelf, wall shelf, microwave wall cabinet and corner appliance garage. Decorative cabinet options are: Crown molding, valance, fluted filler, corbel, foot and mullion doors.
Base Pullout  Cabinet and Base Dish and Bowl Cabinet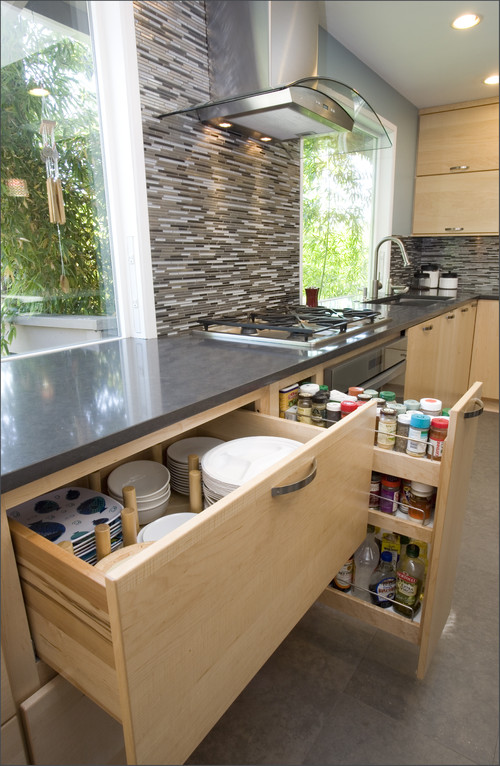 White Kitchen Cabinets with Glass Door Cabinets, Hook Hutch, Cook Shelf and Corner Cabinets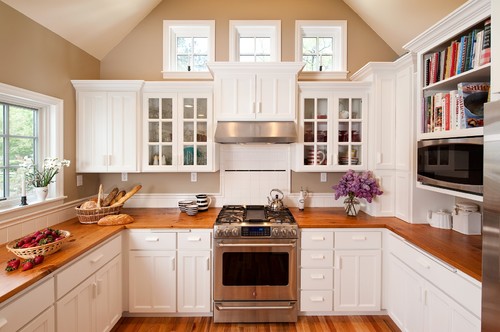 Material
In these days, in kitchen cabinet ideas, material selection varies. The most popular one is the wood cabinet in kitchen remodeling process. If you think about the " all wood", it is furniture grade plywood. Stainless steel cabinets are out of style. Thermofoil cabinets have high end looking with low cost and can compete with wood cabinets.
 Wood Cabinets , in Basalt Gray Color with Matte Stains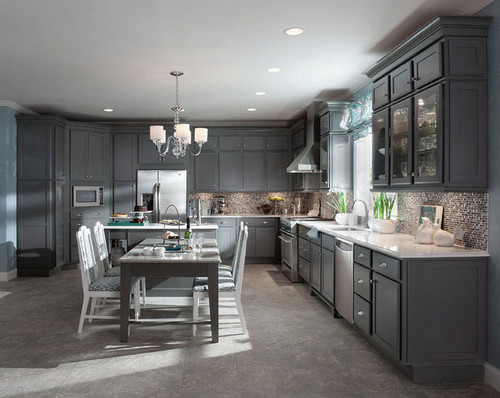 Color and Model Selection
It is all up to your kitchen style and your imagination. In interior design terminology styles can be divided into five sections as Traditional, Country, Contemporary, Rustic and Victorian. Adding a pop of color is simple in this instance. The kitchen cabinets may feature glass fronts throughout the room, as opposed to just a few cabinets here and there to display your finest china. Opposite colors between the wall cabinets and base cabinets are also another taste in your kitchen cabinet ideas…
Cabinet Hardware Selection
Typical kitchen needs in between twenty to fourty pulls and knobs. It also matter the cost. These little addition should perfectly matches with the color and model selection. Do not like the pulls that won't fit your kitchen style!