Backsplash  Color Selection For White Kitchen
The hardest part in kitchen remodeling is finding the right backsplash color. Backsplash Color Selection For White Kitchen would be helpful for your dilemma. I do not want to give many details for your dizzy heads. Only the Backsplash Color Selection Tips that you read below are quite helpful. If you need more detail, please visit my very fist article as :What is Backsplash ? Kitchen Backsplash Ideas.
Backsplash Color Selections Tips for White Kitchen
Golden rules of Backsplash Color Selection for White Kitchen:
1- Countertop is your main guide for backsplash color selection. If you have a patterned or busy  countertop , your backsplash would stay still.
2- There are many white tones in white kitchen cabinets. When you are going to decide to have a backsplash tile, cabinet color is your  life saver. ( So you have already matched the cabinet color and countertop ,follow the rule 1. ) If you  have white kitchen cabinets  which are made with blue or gray tones, please hesitate to go for the cream tone backsplash colors. If you have  white cabinets with yellow and green tones , they won't be good match with gray tones. If you are not making the best decisions about Backsplash Color Selection for White Kitchen, stay on the safe side and go for only white backsplash. White backsplash is always good. Another option to prevent confusing using the countertop material as full high backsplash.
3-  Usually natural color backsplash gives a good  touch to your kitchen. But your personality is also important as well as your kitchen space. In spacious and natural lighting kitchens, attraction of opposite colors are ended up with excellent results. Another reminder for the rule of the small kitchen remodeling ideas: Light color backsplash and large backsplash tiles have always an ample feeling.
4- Grout Color Selection also effects the backsplash color selection for White Kitchen. Same as rule 3, darker grout colors turns very well in big and light catching kitchens. When I was surfing on the internet  I have found this page for grout color selection and would like to share with you.
Backsplash Color Selection For White Kitchen in Pictures
I have picked my bests from my album to show the Backsplash Color Selection For White Kitchen. I share the type  and material of the backsplash tile and some commercial backsplash names and codes under the pictures.
Bianco Carrara Polished Marble Mosaic  Octagon Tile with Dots,  Leather Titanium Granite Countertop and Overhang Breakfast Bar with Bianco Extra Marble Island Top, and Newport White Cabinets
Botticino Marble Mosaic Tile, New Venetian Gold Granite  Countertop with Cream Cabinets 
Beveled Arabesque Backsplash Tile, Bianco Antico Granite Countertop with White Cabinets
Cobalt Blue Hand Made Backsplash with White Fantasy Granite Countertop and White Glass Door Cabinets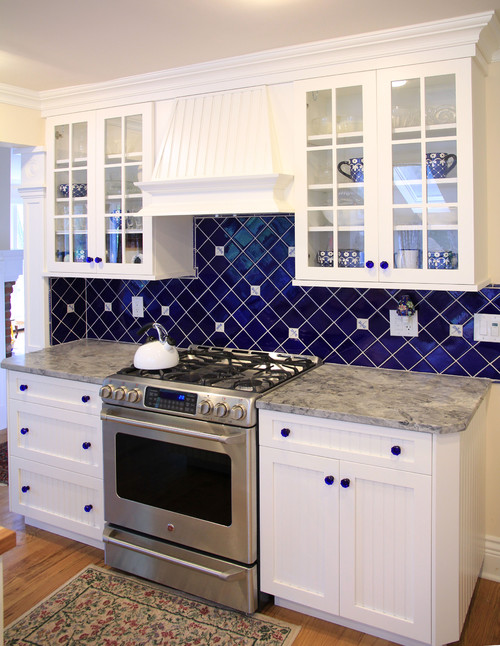 Stainless Steel  Square Backsplash  with Bianco Romano Granite Countertop and Raised Breakfast Bar and Glass Door Cream Cabinets
 A Combo of Natural Stone Backsplash and Graphite Glass Mosaic Tiles  with River White Granite Countertop an Overhang Island Top and White Glass Door White Cabinets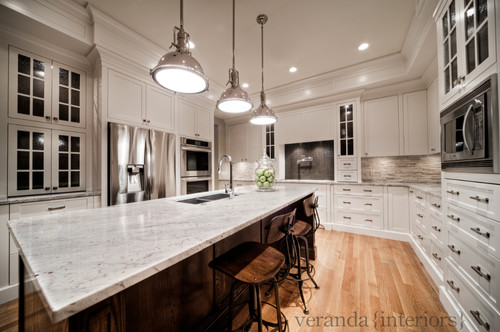 Breakwater Subway Backsplash with White Ice Granite  Countertop and Off White Cabinets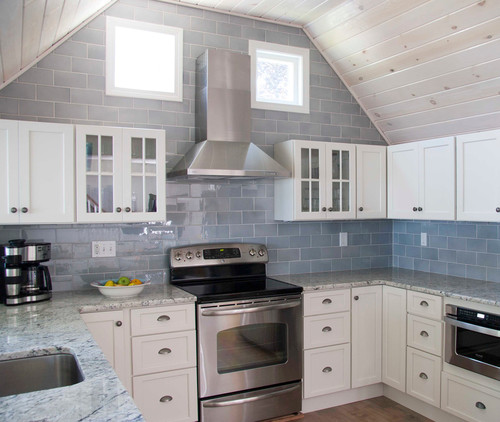 Haystack Travertine Backsplash and Tumbled Travertine Diagonal Tiles Inlay with Giallo Ornamental  Granite Countertop and White Cabinets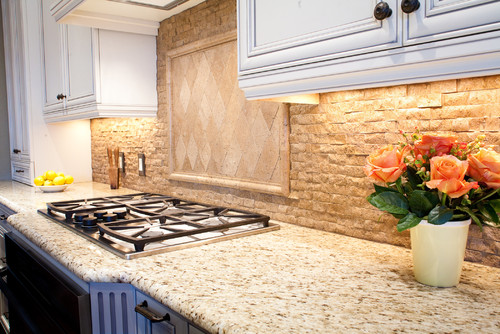 Black Subway  Ceramic Backsplash with Colonial White Granite Countertop and White Glass Door Inside Lighting Cabinets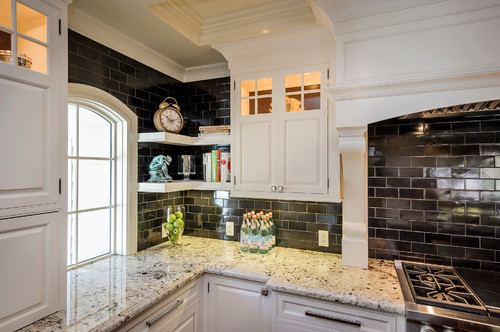 Custom Handmade Glass Mosaic Backsplash with Typhoon Bordeaux Granite Countertop and Destin Color Mocha Glazed White Cabinets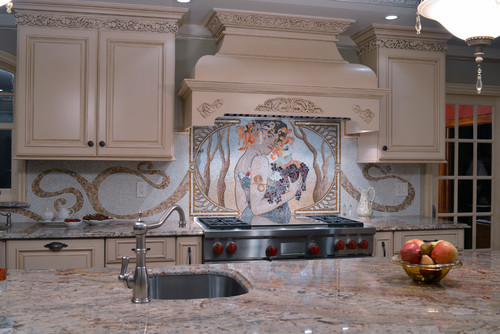 Sea Foam Color Subway Tile  with Cambria Praa Sands Countertop and Island Top and Both-Side Hanging Cabinets in Small Kitchen Remodeling
Travertine Backsplash and Travertine Herringbone Set up Inlay with Cambria Berkeley Countertop and Overhang Island Top and English Cream Paint Maple Cabinets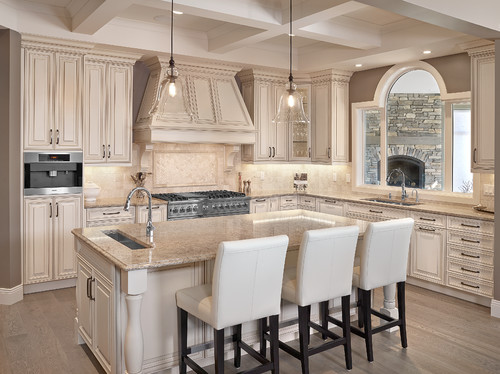 Natural Slate Charcoal Color Backsplash with Cambria Torquay and White Cabinets in Small Kitchen Remodeling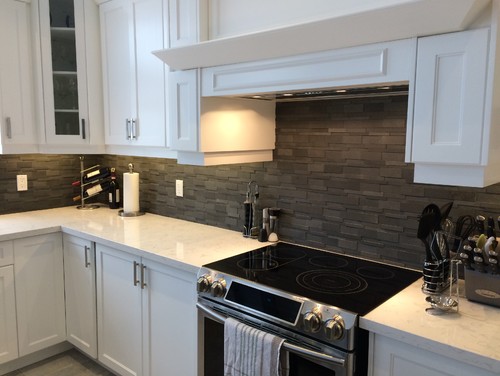 Matchstick Travertine Backsplash with Cambria Windermere Quartz Countertop and White Cabinets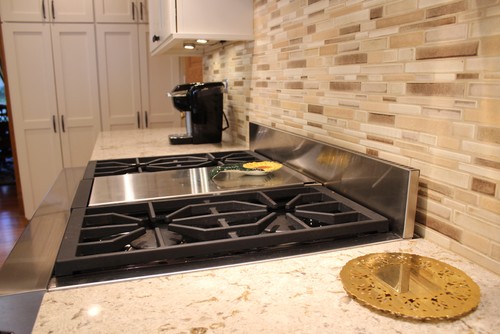 Cambria Bellingham Full High Backsplash and Countertop and Cambria Bellingham Island Top Willow White Cabinets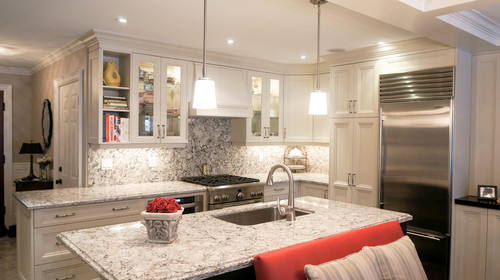 Hope all my advise and pictures will find you well about Backsplash Color Selection For White Kitchen. Please share your experiences.