Titanium Granite White Cabinets Backsplash Ideas
Dancing with curly medley: Titanium Granite White Cabinets Backsplash Ideas. The white tones dance with titanium granite while the right backsplash color is chosen. The design style of the kitchen can be French Country, Mediterranean, Industrial, Traditional and Contemporary.  Honed Titanium Granite is another option to make beautiful makeover in  the kitchen remodeling process.  Honed Granite is also known as leather Granite or brushed granite. Sometimes Titanium Gold Granite can be replaced with Titanium Granite. In this condition homeowner's taste go  for more yellow and gold tone in granite. If you have a big kitchen you can use two tone of countertop and island top.  If Titanium granite is used on the island top, perimeter would be white quartz countertop,white marble countertop,bianco extra marble countertop or vice versa.  In Titanium Granite White Cabinets Backsplash ideas, the  backsplash colors are from the pale white to the earth browns.  Backsplash color selection tips are still; natural colors give the best complimentary to Titanium Granite Countertop. In this article, first material and the characteristics of the backsplash will be determined. Then, the color and stain of the white cabinets will be identified.
Titanium Granite White Cabinets Backsplash Ideas gives to your kitchen remodeling a sophisticated point of view. The material of the backsplash can be ceramic, glass and polished marble. The type of the backsplash tile would be subway, matchstick, mini subway, dotted octagon mosaic. Curly Medley: Titanium Granite Countertop may  also be helpful for your backsplash ideas.
Titanium Granite White Cabinets Backsplash Ideas in Pictures
I am hoping that all the pictures find you well in your kitchen remodeling process. Titanium Granite White Cabinets Backsplash Ideas for your review.
Brushed Titanium Granite with Nordic White Cabinets, Herringbone Set up Subway Backsplash, Stainless Steel Appliance and White Quartz Countertop
Titanium Granite with French Style Antique White Cabinets, Raised Breakfast Bar with Overhang and Kitchen Island, Black Dotted Octagon Mosaics, White Marble Countertop and Tumbled Marble Flooring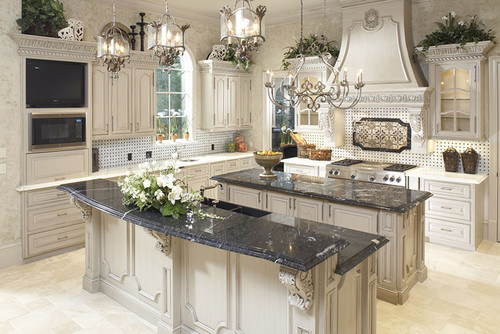 Titanium Gold Granite Countertop with Pearl Glazed White Maple Cabinets and Pumpkin Spice Ceramic Matchstick Backsplash,Kitchen Pendants
Titanium Granite Countertop and Island Top with Nordic White Cabinets and White Carrara Marble Matchstick Backsplash and Dark Stained Flooring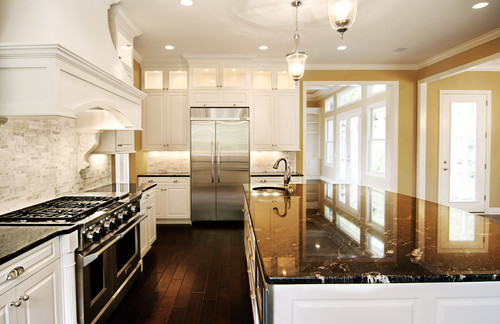 Leather Titanium Granite Countertop and Island Top with Bianco Extra Marble Island Top, Bianco Carrara Polished Marble Mosaic Tile with Dots and Newport White Cabinets.
Picture Credit:Philadelphia Magazine's Design Home.,Titanium Leather Granite Countertop is a good combination of Bianco Extra  Marble island top. Backsplash is Maniscalco's Bianco Carrara Polished Marble mosaic tile with black dots and Newport White cabinets. Flooring is vintage white oak hardwood.
 Titanium Granite With Morning Mist Glass Subway Tile and White Cabinets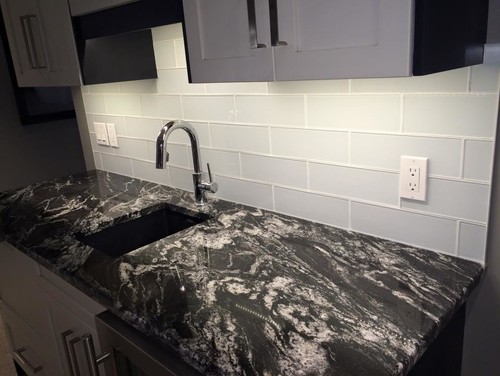 If you would like to take your turn and drop a comment about Titanium Granite White Cabinets Backsplash Ideas, please do not hesitate. Thank you for your collaboration.