Affordable Kitchen Countertops Ideas
Before going into the kitchen countertops ideas, to make a meaningful definition of countertop would be very helpful. The countertop can be defined as the flat working surface on top of base-level kitchen cabinets.
Countertop is the most used part of the kitchen. All the food and liquid marks can stick on the surface. Therefore it has to be well maintained. In your kitchen countertops ideas think twice: the sanitation and hygene. Morever, your first target is a healthy countertop. then, second is decoration.
Material selection in Kitchen Countertop Ideas:
Materials can be detailed mainly in two types: Natural materials and manmade materials.
The most common natural materials are marble, granite, onyx, stainless steel, ceramic tile or ceramic slabs, and wood  (butcherblock). Novelties are soapstone, zinc , bioglass, bamboo, copper , bronze.
                                          Titanium Granite Countertops With standard size Granite Backsplash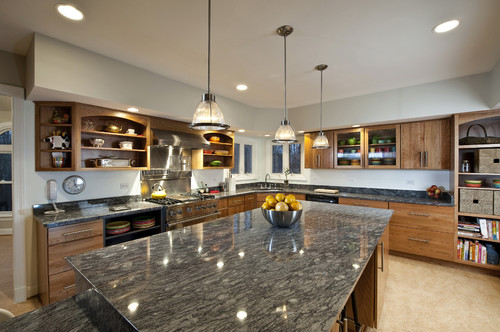 Picture Credit:Synergy Design & Construction. Titanium granite rocks. very classy and stylish
                                                           Onyx Countertop with Onyx Mosaic Backsplash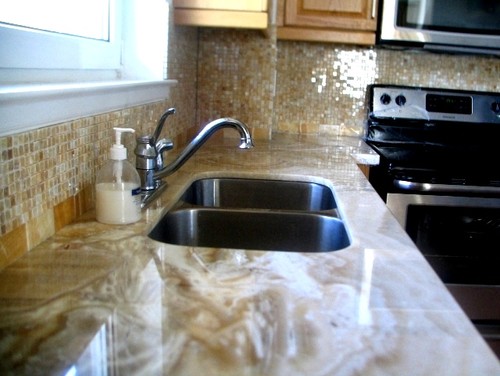 Stainless Steel Countertop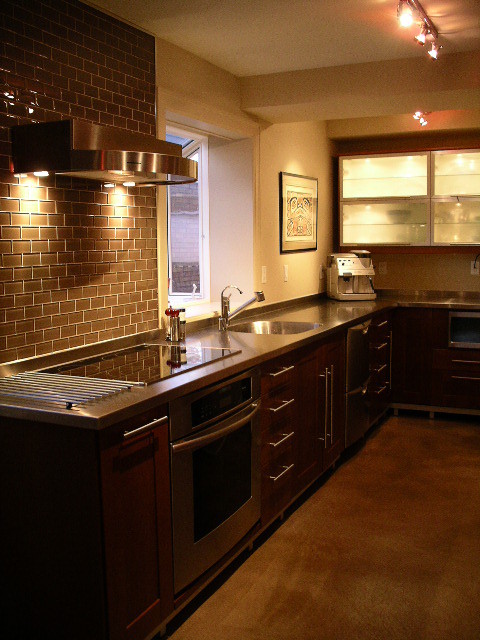 The most common man made materials are under the wing of quartz: silestone,  cambria, ceasear stone , zodiac etc. The others are named as  corian, formica,laminate,pressed marble dust. Novelties are glass,  charcoal concrete,engineered quartz,sand stone, recylcle glass plus cement,and neolith
                                                                               Clear Glass Countertop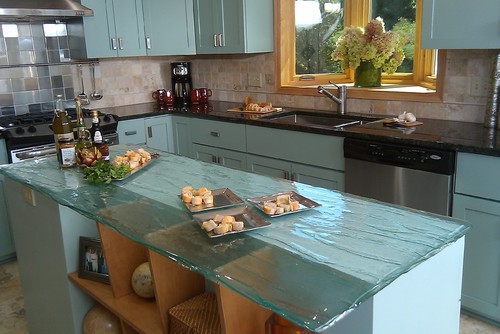 Silestone Countertop
" alt="" width="500″ height="394″> Picture Credit:Gerhards The Kitchen & Bath Store. Stellar Night Silestone with amazing gray wall and white cabinets.
                                                                                  Sand Stone Countertop
When you look for the Kitchen Countertop Ideas, material will confuse your
·        mind
·        budget
·        life style
·        location
·        health
Do not panic! Just try to optimize your desired countertop with your demands.
Here are some weakness about them:
Mostly, metals like iron, zinc , cupper and aluminum  are known as the potential catalyst for Alzheimer, or other mental disases. By using any of them, you invite the risk ,to take a risk for your health.
Concrete, granite, marble , onyx are wonderful stones but they are not convinient for earthquake zones because of cracking.
Marble onyx, sandstone, concrete are porous. Won't be polished and keep germs inside the pores. Also even lemonjuice mark can stay forever on the top.
Stainless steel, butcherblocks are the best candidates for easy scrtacthing.
Ceramic tiles are for clean freaks. Grouts take the all dirts all the time.
Glass is good looking but transfers the heat very fast. Be careful for dishwasher and oven.
Formica and laminate are water freak.
Here are some advantages of them:
Granite won't scratch. Under the light you can see the glossy particles in the stone
Onyx has the best unique pattern ever,
Stainless steel, copper, are the cheapest
I am hoping that kitchen countertop ideas  in kitchen  remodeling are being visualized in your mind. Please use words to make this article more helpful.