Ahoy the Mates! Pirate Kid Bedroom Ideas in Design
The life of the Pirates of the seas is like the adventure of the seas in the little boy imagination. In Pirate Kid Bedroom  Ideas, you fill find some feeding pictures for hungry imaginations.
Like nautical design, the stripe fabrics are used to decorate the pirate boy bedroom, but plain fabrics are also very popular. The main colors are, white, red, black, green, brown or earth tones. You do not need to stick only blue and white colors. To emphasize the pirate theme, the best material is the pirate flag. Beside this, treasure chest, treasure map,golden coins, some old bones and skulls, old cotton sailing ropes,sailor's knot, pirate sword, lantern, pirate's parrot and the pirate ship complete the all. In design elements, all the material fit well to your imagination and you can feel yourself very flexible while you are in the pirate kid bedroom ideas in designing.
Pirate Boy Bedroom Ideas Pictures
If you like the pictures of Pirate Kid Bedroom Ideas, please feel free to share and please do not hesitate to leave a comment.
 Trundle Pirate Bed , Pirate Flags, Rope Ladder, Pirate Bedding and Jutte Rug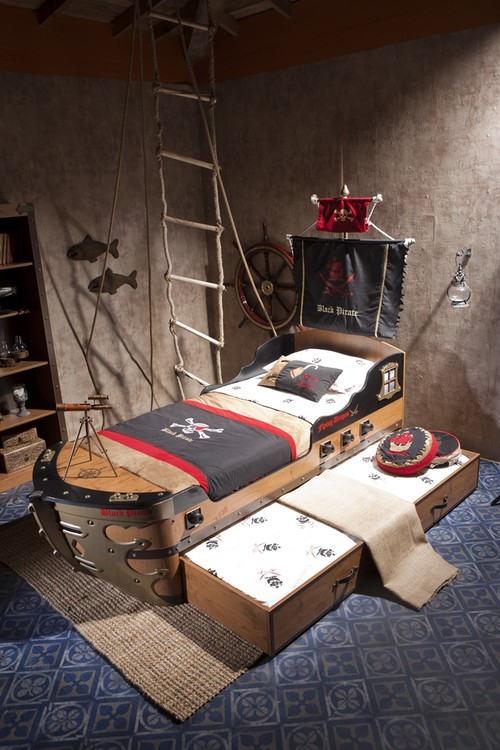 Captain's Bed, Treasure Chest, Wall Mural ,Striped Bedding and Pirate Pillow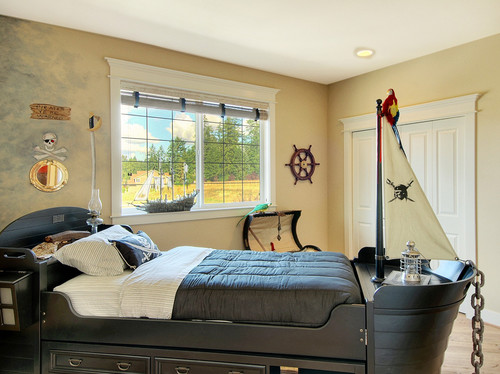 Beautiful Treasure Map Wall Mural with Panel Bed,Nightstand, Dresser and Matching Curtains and Bedding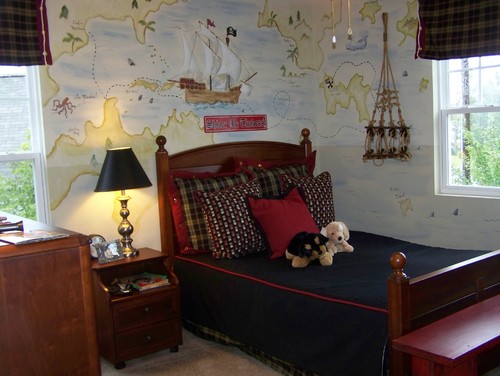 Dark Ceiling Pirate Room with Platform Bed, Pirate Ship Wall Mural, Matching Bedding and Rug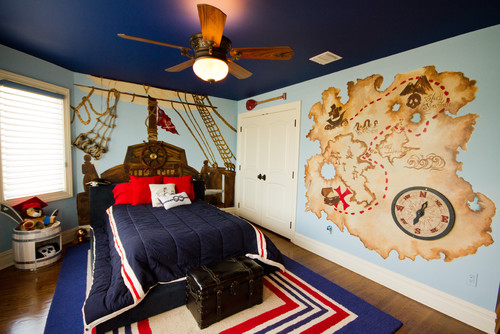 I would like to say  a short good-bye until the next article would be ready. The next one is Ocean Creatures Boy Bedroom Design Ideas.