Cambria Berkeley Dark Cabinets Backsplash Ideas
Warm and pleasant: Cambria Berkeley Dark Cabinets Backsplash Ideas. The combination of beige and beige movements is speckled by charcoal like poppy seeds, burgundy, and golden. Another  doable dark cabinet backsplash ideas in kitchen remodeling is waiting for you.  Polished or honed quartz stone countertop can be used.   In Cambria Berkeley Dark Cabinets Backsplash ideas, some fine  movements on the backsplash will be emphasized. Usually playing with different  tile set up , and picking some matchstick or mosaic combination into solid tiles are good tricks. In both conditions, your elegant engineered stone countertop will pop up automatically. In Cambria Berkeley Dark Cabinets Backsplash ideas, usually subway tiles, glass matchstick tiles, mosaic tiles, and glass pencil tiles are playing a strong role.
Let me give first the material and the characteristics of the backsplash then, the color and stain of the dark cabinets will be defined under each picture. Lemon Poppy Seed Bread: Cambria Berkeley Countertop article has some extra pictures for your backsplash ideas.
The backsplash colors for Cambria Berkeley Dark Cabinets Backsplash Ideas can be same as the Cambria Berkeley White Cabinets Backsplash Ideas.   The material for the backsplash can be glossy ceramic, glass and travertine. The type of the backsplash tile would be subway, mini subway, matchstick or mosaic.
Cambria Berkeley Dark Cabinets Backsplash Ideas in Pictures
Let me introduce  Cambria Berkeley Dark Cabinet Backsplash Ideas by sharing my favorite pictures.
Cambria Berkeley Countertop and Cambria Berkeley Island Top with Traditional Finish Cherry Wood Cabinets, Glass and Stone Mix Mosaic Backsplash, Earth Tone Red Wall Painting and Chimney Style Stainless Steel Vent Hood
Cambria Berkeley Engineered Stone Countertop and Cambria Berkeley Engineered Stone Island Top with  Aburn Glazed Maple Cabinets, Stainless Steel Appliance and White Hand Made Backsplash Tiles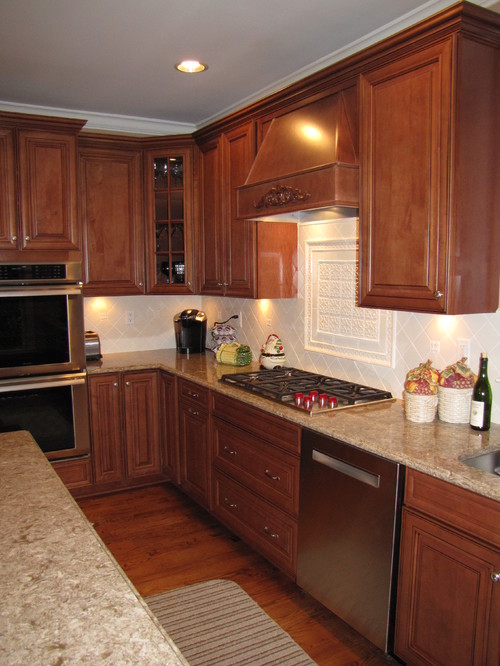 Maple Cabinets with Matte Brown and Black Glaze, Cambria Berkeley Overhang Breakfast Bar, Porcelain Flooring and Ceramic Backsplash Tiles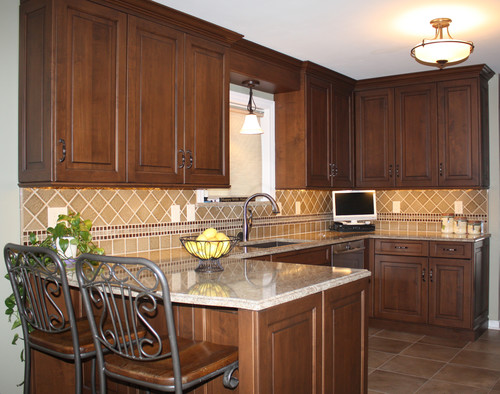 Cambria  Berkeley Quartz Countertop with Chocolate Glazed Cherry Paprika Cabinets , Linear Mosaic Backsplash and Toasted Almond Flooring
Cambria Berkeley Perimeter Countertop  with Cherry Cabinets and Glass Field Tile and Porcelain Flooring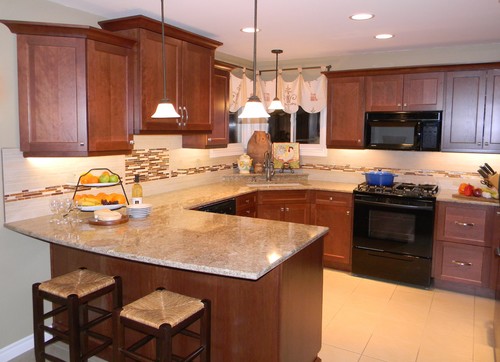 Please keep this article fresh by dropping a comment about Cambria Berkeley Dark Cabinets Backsplash Ideas. Thank you for collaborative work and thank you for being my dedicated reader.