Backsplash School (5): What is Mosaic Tile Backsplash?
Mosaic tile backsplash ideas is a bridge between the ancient and modern era where, kitchen remodeling meets with your artful and colorful personality.
Here are my eye candies of mosaic tile backsplash in pictures. Hope you like them all.
Here Are Some Mosaic Tile Backsplash Ideas
Polished Calacatta White Marble Hexagonal Mosaic Backsplash Tile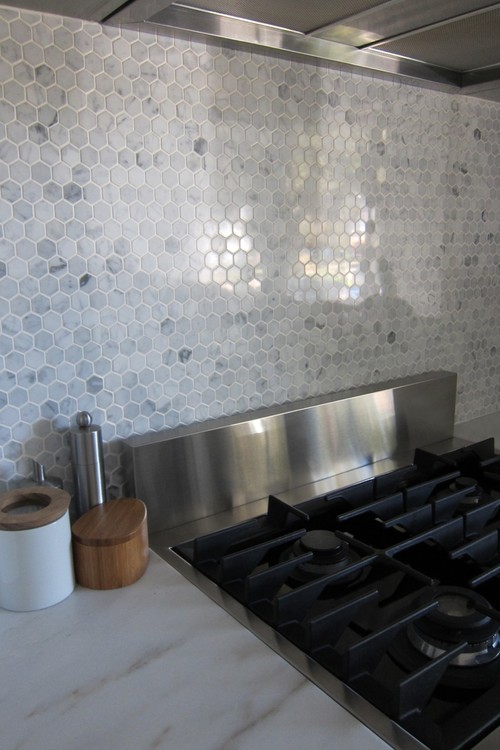 White Carrara Marble Mosaic Backsplash
Travertine Mosaic Inlet
Custom Handmade Glass Mosaic Backsplash Tile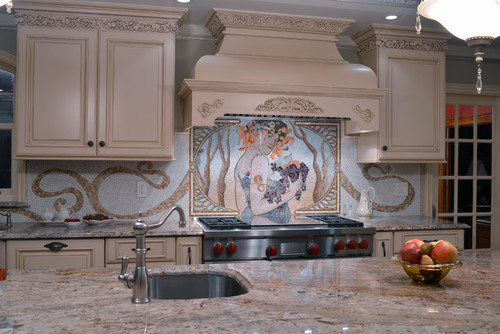 Fused Glass Mosaic Backsplash Tile
Neutral Color Blend Glass Mosaic Backsplash Tiles
Unique Ceramic Mosaic Tile Backsplash
Mixmatch Style Ceramic Mosaic Backsplash Tile
Stainless Steel Mosaic Tile Backsplash
Brushed Copper Mosaic Backsplash Tile
Mixed Material Mosaic Tile Backsplash
Mosaic Tile Backsplash Materials
Stone Mosaic Backsplash
Stone mosaic tiles add a sophisticated and complementary approach to any space. The favorite stones to make a beautiful stone mosaic backsplash are marble, travertine, and natural rocks and slates.
Glass Mosaic Backsplash
Glass mosaic tiles can be both dramatic and soft. Fused glass is picked for more artistic forms of backsplash. Adding an accent wall behind your range is a popular choice when updating your kitchen. Glass tiles are one of the easiest mosaics to clean and maintain, making them an excellent choice for your backsplash selection.
Ceramic Mosaic Backsplash
Ceramic mosaic backsplash tile is one of the favorites of interior designers and architects. The advantages of ceramic mosaic tile are: strong, long-lasting, and guaranteed to make any interior look amazing as the quintessential wall feature. To visualize the endless imagination I would like to introduce the broken china pieces as ceramic mosaic tile.
Metal Mosaic Backsplash
Metal mosaic tiles add a contemporary look to your space that is both bold and elegant. Using metal tiles as a back-splash provides your kitchen with a genuinely stunning look that better showcases your design aesthetic. Most picks go for stainless steel and copper.
Mixed Material Mosaic Tile Backsplash Ideas
Admired designers are working hard to put new vocabulary to the mosaic backsplash ideas. These days, many different materials can be combined to show the art exhibition in kitchen design ideas. My favorites are Slate and Glass, Travertine and Glass, Marble and Glass, Glass and Metal, Glass plus Ceramic and Resin, Marble plus glass and Metal, and especially Glass plus Travertine and Shell mixtures.
The basic definition of mosaic tile backsplash is the art of combining tiny tiles together to create a larger image or pattern. In some conditions, large tiles with picture pieces have the same meaning. No matter what size of pieces, pictured tiles are like puzzle pieces and also called mosaic tile.
Your kitchen wall can carry the figurative designs, which integrate visually with existing tiling and decor: Landscape, blooming tree branches, beach, florals, abstracts, geometric shapes are some of the mosaic tile backsplash ideas. Please consider that, the simplicity or complexity of the pattern will affect the final cost to create the desired end result.