Trendy Gray: White Kitchen With Gray Countertops Ideas
Gray is the new white! I use this motto very often these days to emphasize the trendy gray. Very flexible countertop color that makes the owner very happy. I think white kitchen with gray countertops brings you a new window in your kitchen remodeling.
In white kitchen gray countertop ideas, options are endless. Countertop could be marble, granite, quartz, Corian, stainless steel, and concrete. Let me try to categorize some countertops by the name;
Gray Marble Countertop
White kitchen gray countertops would be very elegant if the gray marble countertops are used below :
White Carrara Marble – White Carrara marble countertop consists of tones of narrow gray veins and seems very sophisticated.
Arabescato Carrara Marble – Arabescato Carrara Marble Countertop is an exquisite combination of whites and grays with medium variation. The lines are softer than White Carrara Marble.
Calacatta Classic Marble – Calcatta Classic Marble Countertop has a wide gray veining on the white surface is the indicator. The color is gray is very pale and the marble itself is very romantic.
Calacatta Carrara Marble – Calacatta Carrara Marble Countertop consists of very fine streams of intersecting silvered gray veins frost the alabaster white and it matches especially with off-white cabinets very well.
White Kitchen With Gray Granite Countertops
Steel Gray granite – Shade lovers favorite, with shades of grays and small flecks of lighter grays.
Impala Black granite – African Beauty, shades of dark grays and blacks with low variation in pattern. It seems almost plain look. Very homogenous granite.
New Caledonia granite – New Caledonia granite looks incredibly trendy as it is mainly in the grayish color palette. Very small gray, white and beige patterns make the countertop eternal.
Azul Platino granite – gray and white slab granite that blends well with all interiors and design feature especially in kitchens and bathrooms.
Gray Man-Made Stone Countertops
Gray Quartz Countertops
Cambria Bellingham – Cambria Bellingham Countertop looks like marble by having dark gray and black swirl waves on the creamy light beige surface.
Cambria Templeton – Cambria Templeton Countertop means the relaxation gray. An unassuming gray with tiny toffee-colored flecks is just designed for trendy gray.
Kensho – Silestone Kensho Countertop is a light-medium gray, which has a still and shiny look without a lot of dots and flecks. A very good bet for your kitchen remodeling ideas. Mostly, it is used for contemporary kitchen designs and it is a good candidate for White Kitchen Gray Countertop Ideas.
Steel – Silestone Steel Countertop has very bright shiny small white flecks on a silky gray surface. It is told as another friendly option for White Kitchen Gray Countertop Ideas.
Gray Amazon – Silestone Gray Amazon Countertop and Silestone Steel Countertop are the sisters. The only difference is their flecks. Silestone Gray Amazon has shiny black flecks on a beige-gray background.
Gray Corian Countertops
Corian Ash Gray countertop is just still and matte. The tone is medium if is compared with the Corian Dark Gray countertop and Corian Light Gray countertop. Corian Gray countertop is a good addition to the white kitchen.
White Kitchen With Gray Countertops in Pictures
Below selected pictures are all great about white kitchen gray countertops. Hope all would be helpful for your kitchen remodeling ideas.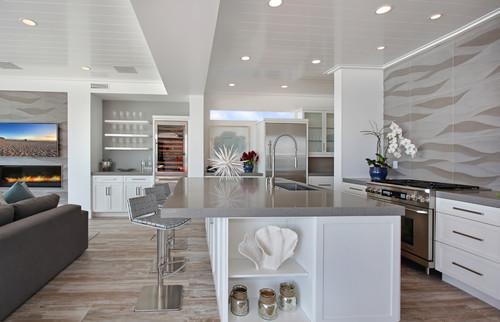 Gray And White Cabinets With Stainless Steel Appliances