Backsplash Color Selection For Dark Cabinets
Picking the right backsplash color for your dark cabinets is not easy. Backsplash Color Selection For Dark Cabinets would be a good solution if you follow the simple backsplash color selection tips written below. If you love to read more, please do not hesitate to check out my very fist article as :What is Backsplash ? Kitchen Backsplash Ideas.
Backsplash Color Selections Tips for Dark Cabinets
Guiding rules of Backsplash Color Selection for Dark Cabinets:
1-  I am repeating this rule  which has been placed in my previous article; Countertop is your main guide for backsplash color selection. If you have a patterned or busy countertop , your backsplash would stay still.
2- The variety of dark cabinets are amazing in these days. First match the cabinet color with countertop then pick the backsplash. Usually natural colors are surrounding your kitchen  with very warm feeling. Gray tones are being very popular with any brown cabinets and black cabinets in your kitchen remodeling ideas.  If you are not making the best decisions about Backsplash Color Selection for dark cabinets, white backsplash is safe base.  Another option to prevent confusing using the countertop material as full high backsplash.
3- Grout Color Selection also effects the backsplash color selection for dark cabinets. Darker grout colors turns very well in big and light catching kitchens. Grout color selection link is in my previous article, it may take your attention.
Backsplash Color Selection For Dark Cabinets in Pictures
Since I am approaching my 100th. article, I love to pick my best pictures by using my album to show the Backsplash Color Selection For Dark Cabinets. I share the type and material of the backsplash tile and some commercial backsplash names and codes under the pictures.
Tumbled Limestone Backsplash with Ceramic Connection with Typhoon Bordeaux Granite  Countertop and Cherry Havana Stained Cabinets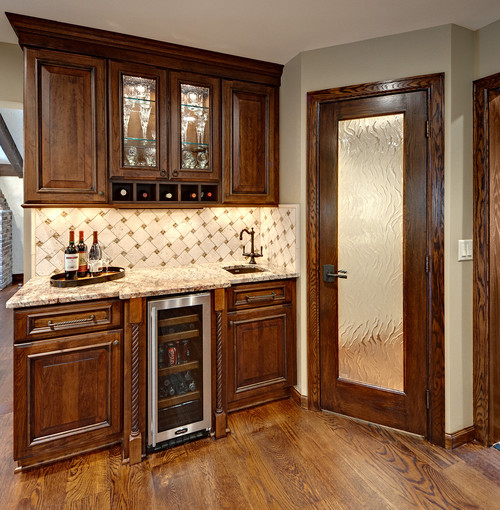 AKDO Stagger Parchment Glass Matchstick Backsplash Tile with Bianco Antico Granite Countertop and Pepper Stained Birch Cabinets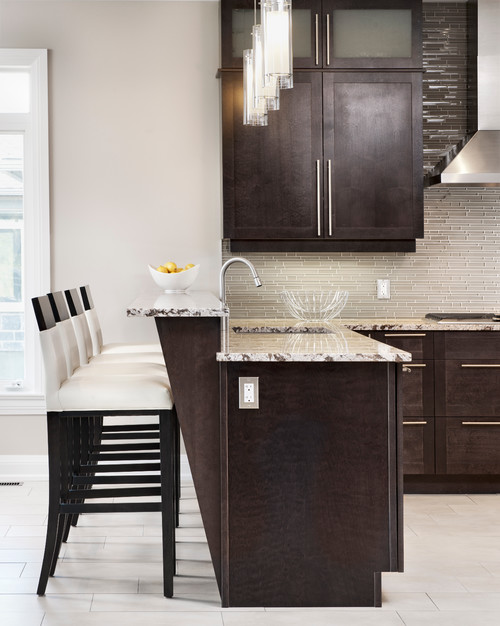 Melange Gray Glass Subway Tile with Baltic Brown Countertop, Baltic Brown Raised Breakfast Bar, Baltic Brown Island Top, Natural No Stain Cherry Cabinets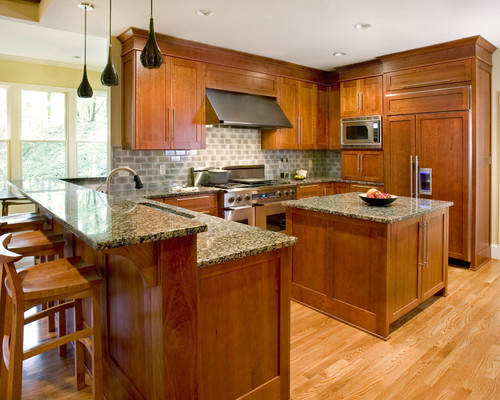 Santa Cecilia Granite Countertop with Espresso Cabinets and Natural Color Glass Matchstick Tiles and Light Travertine Flooring
Cambria Bellingham Countertop with Kona Finished Maple Cabinets and Glass Brick Mosaic Tiles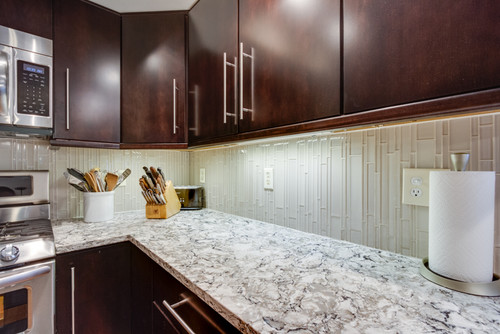 White Fantasy Granite Countertop with White Carrara Subway Tiles and Vertical White Ceramic Mini Subway Tiles, Ebony Finished Maple Kitchen Cabinets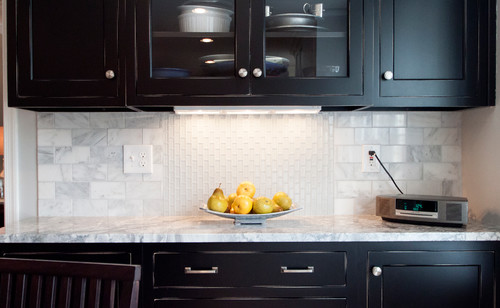 Giallo Ornamental Granite Countertop with Glazed Ceramic Beveled Arabesque Tile and Capuccino Kitchen Cabinets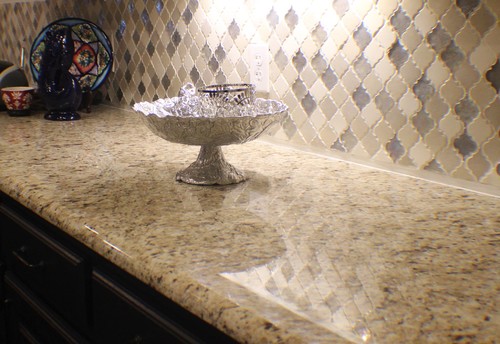 Glossy Gray Ceramic Subway Tiles and Gray Tones Glass Matchstick Inlay with American Walnut Stained Cherry Cabinets with Cambria Buckingham Countertop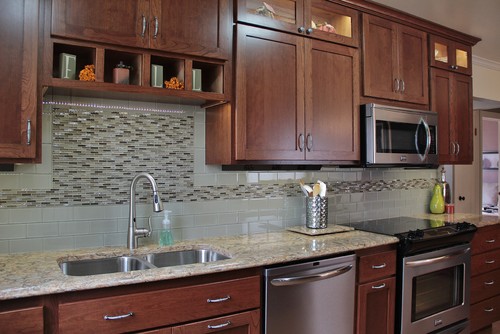 Glossy Ceramic Subway Tiles with River White Granite Countertop, River White Waterfall Edge Overhang Island Top, Wineberry Stained Walnut Cabinets, Aluminum Framed Glass Cabinet Door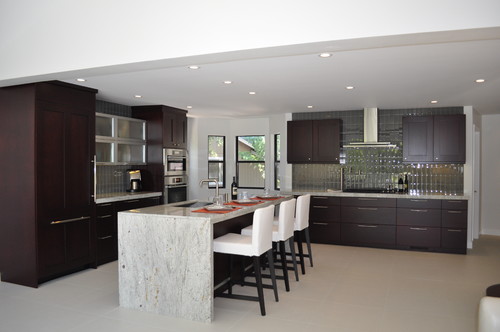 Kashmir White Granite Countertop with Mocha Finish Cherry Cabinets , Waterfall Glass Tile and Simpson Blend Mini Subway Glass Tile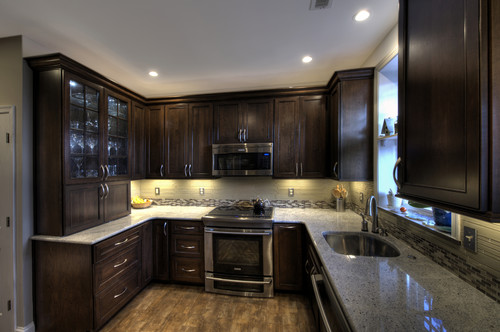 Cambira Windermere Quartz Countertop  with Crema Europa Eternal Limestone Backsplash and Borokheaven Wood Mode Maple Cabinets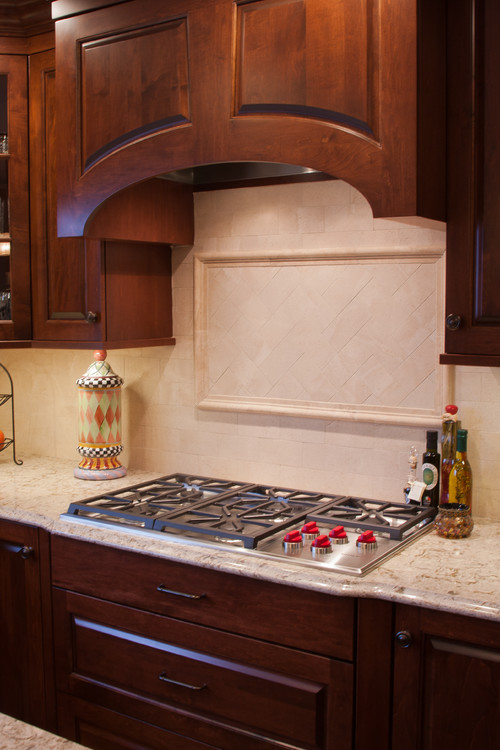 Alaskan White Granite Countertop and Island Top with Chocolate Cabinets and Brown Ceramic Subway Tiles
Cambria Canterbury with Natural Slate Wall, Glass Matchstick Backsplash and Cherry Cabinets in Small Kitchen Remodeling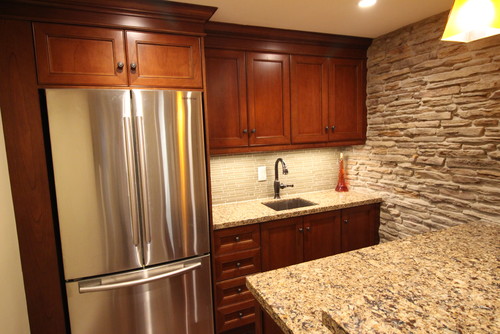 Giallo Napoli Granite Countertop with Chocolate Ebony Glazed Cherry Cabinets, Copper Panel Backsplash and Natural Slate Tile Wall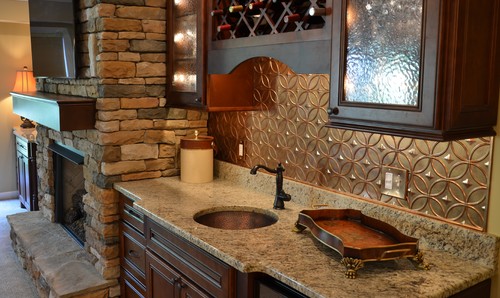 Titanium Granite Countertop,with Carbon Color Ceramic Tiles and Autumn Stained Cherry Cabinets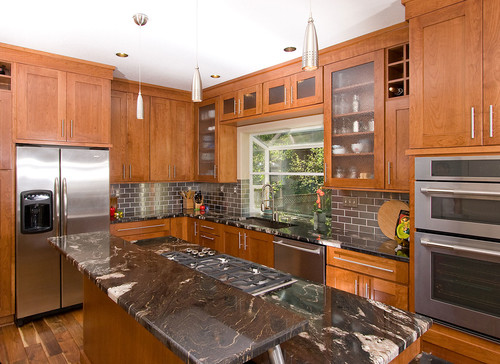 Cambria Praa Sands Countertop with Dark Cabinets and Textured Glass Subway Tiles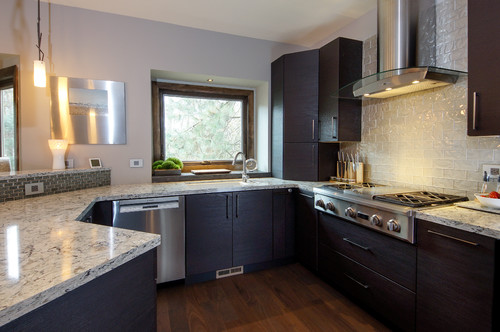 Bianco Romano Granite Countertop, Bianco Romano Full High Backsplash and Ameretto with Burnt Umber Glazed Maple Cabinets