What is Brick Backsplash Tile?
Brick Backsplash Tile is a little confusing subject, which can be classified under kitchen remodeling and backsplash selection.What is brick backsplash tile ?  One of my early article I had touched the shape of the backsplash tile and the material of the backsplash. I think it is time to identify all the shapes especially the trendy one like brick backsplash tile.
The designers would like to bring new dimensions into kitchen remodeling. First they kindled brick backsplash tile ideas by using the real brick. Then veneer brick was inserted into the backsplash market. Finally, Subway backsplash tile is called brick backsplash which gives the same effect with the vision. Now, Brick Backsplash Tile style or Brick Backsplash Tile pattern are taking place in the stage.
Brick Pattern Backsplash Tiles:
The vision of brick pattern backsplash tile wont't be same for all projects. In these days, vision takes the first rank in any kind of kitchen style. So brick backsplash tile won't be a real brick , won't be a veneer brick.  The only pattern name indicates if it is brick backsplash or not.
The most popular brick pattern backsplash tiles are : Grid Horizontal (Stack Bond), Off Set (Strecher Bond), Alternating Horizontal Brick Pattern.
Grid Horizontal Brick Backsplash Pattern
Off Set Brick Backsplash Pattern
Alternating Horizontal Brick Backsplash Pattern
 Material Selection for Brick Backsplash Tiles:
The rectangle cut backsplash can be patterned as brick. In this condition, the backsplash itself would be a real brick, veneer brick, ceramic , travertine, marble, glass, and stainless steel.
Real Brick Backsplash Tile:
The colorful, non homogenous shape of rectangle bricks  carry a nice and old  looking to the kitchen. Especially, it can be named  shabby chic backsplash style.
Shabby Chic Backsplash Style
Veneer Brick Backsplash Tile:
Veneer brick is not as thick as real solid brick. This is like a thin surface for coating. The material is the same as masonry brick. To classify them , there should be able to tell the difference based on the apparent thickness.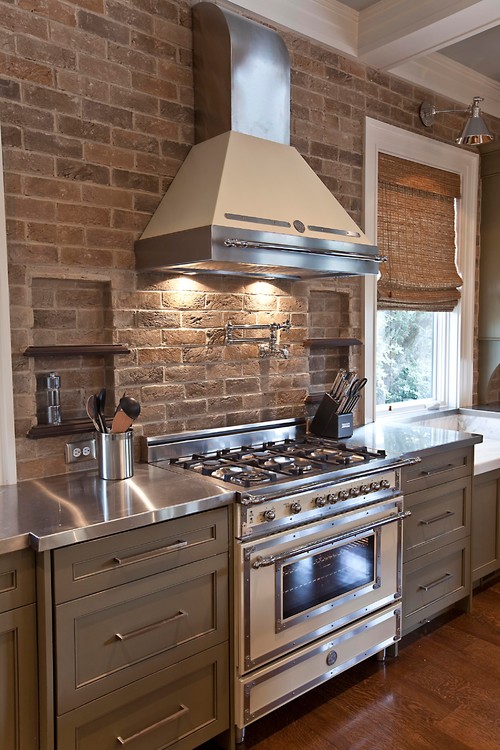 Ceramic Brick Backsplash Tile:
Ceramic Brick Backsplash Tile is very common and easy to find out to fit into your project. Matte Glaze , or Glossy Glaze can be picked upon the desired design. Keep in mind that there are many different kinds of matte. They all look almost same, and they can be very different to the touch. For instance, magnesium mattes often are described as having a "butterfat" feel, while barium and strontium mattes offer some unique bright colors while being very dry. There are many different degrees of matte, with a "satin" matte about halfway between a dry matte and a gloss glaze. Matte Ceramic Brick Backplash pertains to a glaze surface that diffusely reflects light. Glossy Ceramic Brick Backsplash has a surface that reflects light in a specular ( mirror like) way.
Travertine Brick Backsplash Tile:
Travertine is a form of limestone deposited by mineral springs, especially hot springs. Travertine is most commonly available in tile sizes for floor installations. Travertine is one of the most frequently used stones in modern architecture. Mostly the tumbled travertine gives the best result for brick backsplash tile ideas.
Split Face Travertine Brick Backsplash Tile 
In the tile market, Travertine is often sold in a tumbled finish because it enhances its natural pitting. "Tumbled" means both the finish of the stone and one of two processes used to create these finishes.
Tumbled Travertine Brick Backsplash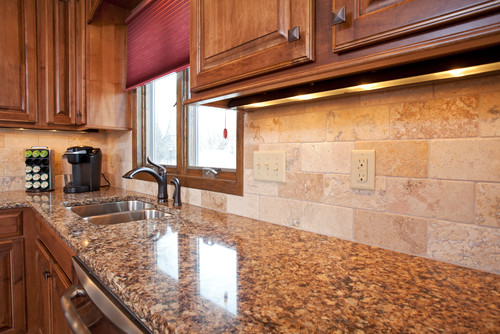 Marble Brick Backsplash Tile:
Marble is a classic and elegant addition as brick backsplash tile. Mostly White Carrara Marble and Calacata Gold Marble can be picked for the kitchen remodeling ideas. Honed marble backsplash or polished marble backsplash can be count as optional details.
Carrara Bianco Honed Brick Backsplash Tile
Honed Marble Backsplash Tile vs. Polished Marble Backsplash Tile
The easy way to understand the difference between Honed Marble Backsplash Tile and Polished Marble Backsplash Tile is, look and feel: Honed lacks the shininess and reflective qualities that polished marble has. Instead, it has a more satin-feel, smooth and velvety to the touch. A polished finish gives the smooth surface a shiny, much glossier look.
Glass Brick Backsplash Tile:
Glass Brick Backsplash Tile has a wide variety of color and wide variety of size. From Simple plain color to colorful mix, the palette is joyful. Gray, White, Beige, Blue and Sea Colors are very fashionable in these days if they are picked to use as plain colors and larger size. Earth colors are still popular to have a happy feeling to the kitchen remodeling if smaller size is matter.
Stainless Steel Brick Backsplash Tile:
Stainless Steel Brick Backsplash Tiles are very catchy by price and by low maintenance backsplash characteristics . Especially brushed stainless steel and satin stainless steel turn  out perfect in your kitchen remodeling project.
Brushed Stainless Steel Brick Backsplash Tile
Satin and Brushed Stainless Steel Brick Backsplash 
If you find this article very resourceful, please help the spread the word. Thank you for reading.