After picking up the right backsplash, your bathroom vanity ideas come next. At this point, you should also consider the sink, vanity top, mirror and lighting, linen cabinets, wall cabinets and shelves, even medical cabinets under the same umbrella.
To make the bathroom vanity ideas more understandable, I would like to go step by step and would like to write about vanity, linen cabinets, shelves, and wall cabinets in this article, and I would like to categorize all in different articles. The most emphasized trio in bathroom vanity ideas is the organization, versatility, and decoration. Three in one project can only help to solve the dilemma. Your accumulated clutter makes you feel disorganized and you would like to have more space in your bathroom.
Then, bathroom remodeling and adding extra spaces are taking place. For all kinds of various sizes of bathrooms have a different approach of ideas. Your bathroom that needs to remodel may be small, or large. Your bathroom, which needs to be touched, maybe your master bathroom, your guest bathroom, or kids bathroom. 
Dark Cherry Color Modern Bathroom Vanity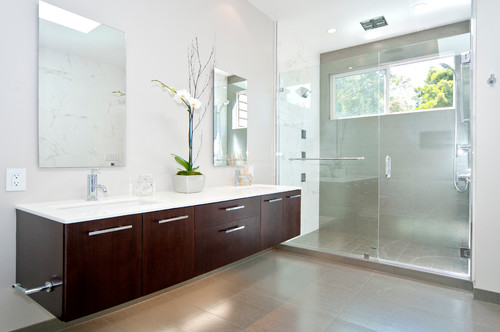 Picture Credit:Cabinets and Beyond Inc.
Sleek looking master bathroom. Vanity seems like floating
White Open Shelve Under Vanity with Calacatta Gold Marble Vanity Top and Mosaic Backsplash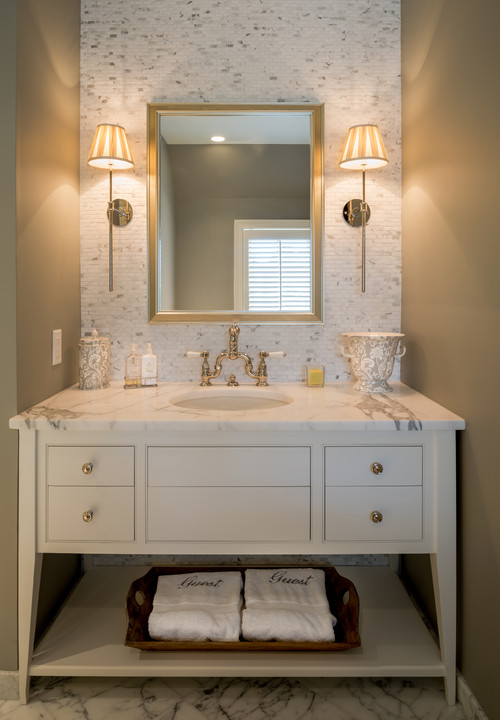 Picture Credit: Archer and Buchanan Architecture.
Your guest bathroom warmly welcomes your guests….Open shelve under vanity seems pretty unique.
Kid's Bathroom with White Wall  Bathroom Cabinets and Monogrammed Step Stools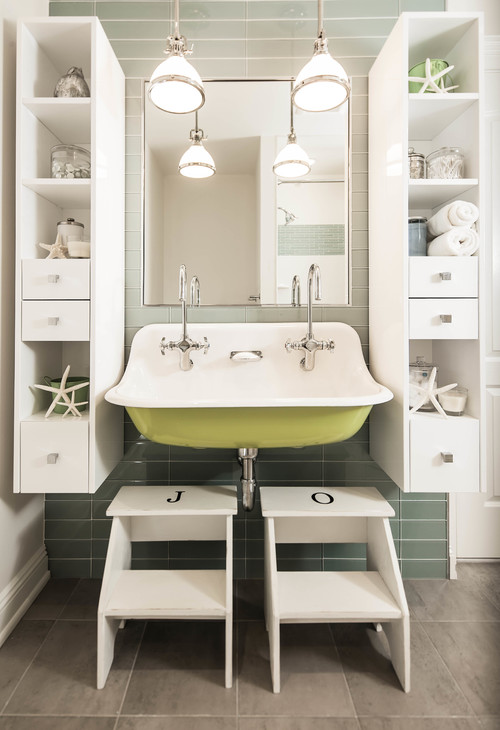 Kids bathroom with wall cabinets. I like the idea of step stools and individual personalized wall cabinets. Reachable distance for the kids 🙂
 Your house needs to have a taste and follow the style in each room. If you like the traditional taste, your bathroom won't be contemporary. As I mentioned in the kitchen folder, bathroom vanity ideas reflect your style as traditional, vintage, contemporary.
The popping-up piece of your bathroom is your vanity. Vanity needs to be in contrast with backsplashes to show itself in a better way. As a matter of bathroom size, your vanity may be bumped out or, plain surface as front looking. Some vanities are dresser looking and some are like a combination of drawers and cabinets, some have open shelve under them.
French Style White Dresser Master Bathroom Vanity and Glass Door Linen Cabinets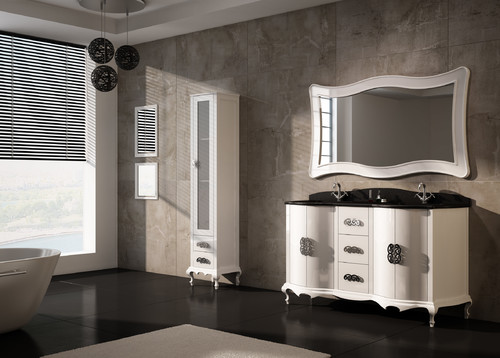 Picture Credit: Macral Design Home Spaces.
French style dresser master bathroom vanity and glass door linen cabinets. Shhh, have you noticed the details? Beauty whispers
 Chocolate Color Raised Middle Cabinet Bump Out Vanity with White Marble Vanity Top and  Ceramic Subway Shower Backsplash, Marble Looking Subway Backsplash and Rectangle Ceramic Floor Tiles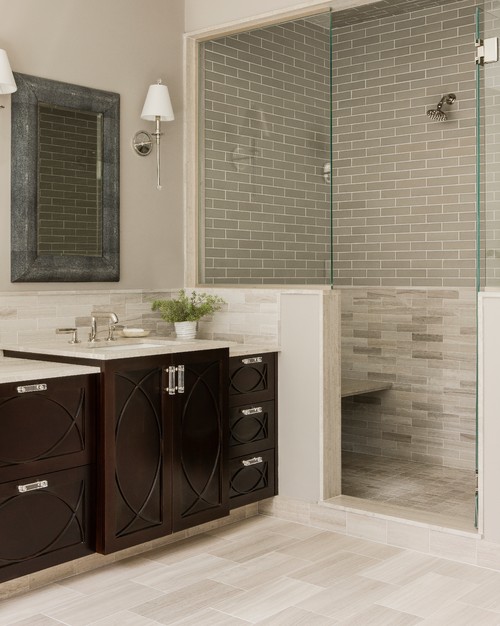 Picture Credit:Jill Litner Kaplan Interiors.
Raised middle cabinet with bump out. Eye catcher. The fish design on the vanity doors is very impressive.
Chestnut Color Curvy Bump Out Vanity with White Marble Vanity Top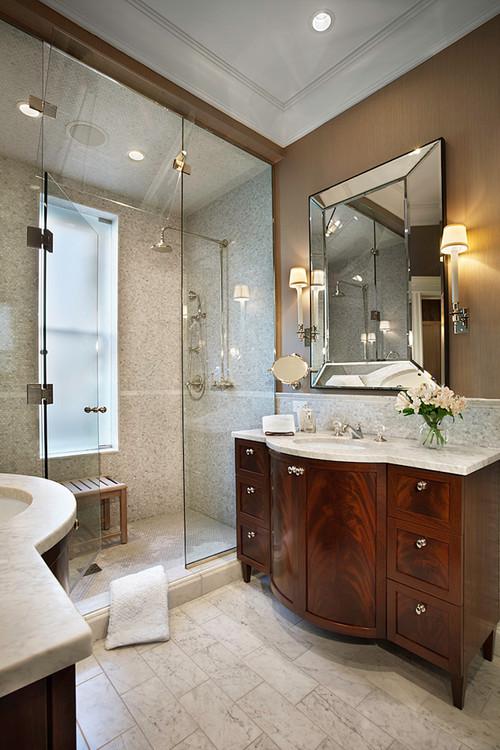 Usually, the master bathroom and the guest bathroom have wall cabinets in bathroom vanity design ideas. The kid's bathroom has always been based on vanities since kids cannot reach easily the wall cabinets. 
Shelve can be used in small bathrooms to give additional storage and decorative looking, or such a good addition to kids bathrooms.
Linen cabinets can be installed over the toilet bowls or next to the toilet bowls in small bathrooms, but usually, bathroom vanity ideas indicate the best place as close as the bathtub or shower. They are tiny-looking cabinets with open shelve or with glass cabinet doors. 
Wall cabinets with inside drawers are the best solution for good organization in the bathroom. Medical cabinets embedded in the wall are being very old-fashioned so, wall cabinets carry the same way as medical cabinets.
Wall cabinets are thicker than linen cabinets. All the cabinets and vanity should be in the same color and follow the pattern in bathroom vanity ideas. These days two color cabinets and linen can be used as a novelty. Hope all information in this article gives you a bathroom vanity idea. Please do not forget to add your comments and stay tuned for my next article Vanity Top Ideas.
Double Sink Vanity Bathroom Vanities Powder Room Vessel Sink Counter Space Floating Vanity Rustic Bathroom Wall Mounted. Small Bathroom Storage Space White Bathroom Diy Natural Wood Countertop Hardware Create Light Sinks Fixtures Mirrors Countertops. Stone Faucet Blue Furniture Search Close Farmhouse Gray Close Search Drawer Classic Unit Decor Plumbing Pulls Corner Shelf. Mount Bath Statement Bathroom Vanity Wood Modern Double Countertop Hardware Traditional Light Sinks Rustic Natural. Modern Bathroom Vanity Double Sink Vanity Bathroom Vanities Vessel Sink Powder Room Floating Vanity Wall Mounted Small Bathroom Counter Space Rustic Bathroom Storage Space.