Caesarea Breeze: Caesarstone Moorland Fog Quartz Kitchen Countertops
New Princess of Haifa greets you with warm welcome: Caesarea Breeze aka Caesarstone Moorland Fog Quartz Kitchen Countertops are marble like engineered stone. The unique design of Moorland Fog is pretty new in the market however, the look is very catchy. By comparing marble and other natural stones, for sure she is more durable with an elegant beauty.
Since Caesarea means disambiguation, Caesarea Breeze will redefine the meaning of man made countertops:
In terms of designer view: Very smooth pinkish beige surface carries the fine vanes and small twinkle style silver sparkles perfectly. The gray color of the veins changes from charcoal gray to graphite, graphite to soft gray. Likewise, brown color of the veins shows a variety from toffee brown to chocolate milk, which gives many inspirational kitchen remodeling options. Sparkles are the good bonus since most marble countertops don't have them. As a little insert, the granite countertops are most known with their sparkles.
In terms of consumer view: The most amazing feature of the natural stones is combined in this Caesarstone. Marble-like engineered stone Moorland Fog with granite sparkles shows strong durability.
If you would like to look for the related stones to Moorland Fog 6046, I may suggest Cambria Berwin which is more yellowish, Caesarstone Taj Royal 5212 has a lighter surface and lighter color of veins. Caesarstone Snowy Cliff 6607, where you can find more dark grays on the surface and in the veins as well.
Moorland Fog Caesarstone Countertop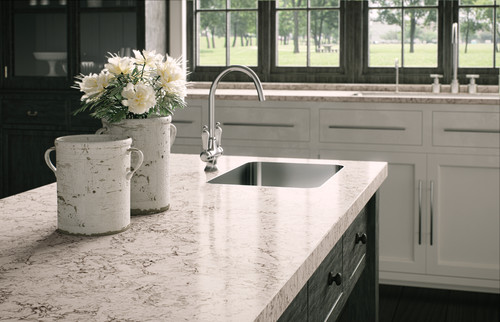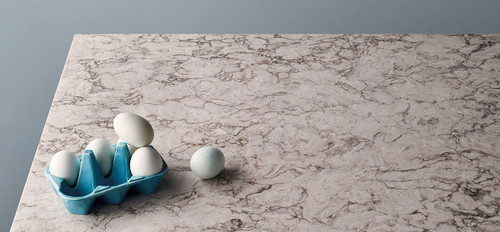 Picture Credit: Galileo Construction Inc. via Houzz. Please take a look for a close caption of the engineered stone, then ready to mesmerize.
Haifa Princess brings you Caesarea Breeze but unfortunately, there is not enough picture of her. Beside her, the Caesarstone Classico series has scarcely any pictures in real kitchen remodeling. I will keep my eyes open to find more pictures for your visualizing of kitchen design ideas and I will keep updated my page as much as I can. Below are the Caesarstone Moorland Fog quartz kitchen countertops in Pictures. In my opinion, Moorland Fog goes very well with white kitchen ideas, two-tone cabinets kitchen ideas, two-tone countertops kitchen design ideas, dark cabinet kitchen ideas, and gray kitchen ideas.