Silver Lace: Caesarstone Mountblanc Quartz Countertops
No need to climb to the summit of the Alps to see the beautiful snowy mountains and glitter with sunshine over the ice. Caesarstone Mountblanc quartz countertops will provide a warm guiding tour to your kitchen remodeling adventure. She seems white at first sight but actually, a very pale gray, which has some clear ice pieces inside and some marble look soft gray veins. Additionally, she shows her gray-brown sandy personality very well. These three visual elements are the flawless way of declaration that, the gray is the new white in kitchen remodeling.
Space Taking Shape Discover
Caesarstone Mountblanc countertops would be nice companies for the other kitchen design elements while the colors are considered. Her personality is very calm and homogenous. She is the only child in her category but, her cousins are also very strong replacements in case your fabricator could not find her: These are Caesarstone Snowy Cliff 6607 and Caesarstone Georgian Bluffs 6134. Remember that, icy clear particles, sandy spread, and soft veins make her irresistible. Caeserstone Mountblanc quartz kitchen countertops are also compared with Cambria Rosedale which, has a sandy spread and thick charcoal gray veins. On the other hand, Silestone Eternal Statuario shows only two characteristics a sandy look and soft gray veins. Finally, another related stone is Silestone Lyra which has only soft gray veins and these veins are immensely compact.
Design and Installation Tips for Caesarstone Mountblanc Quartz Countertops
Design Tips for Caesarstone Mountblanc 5043: She is very friendly with white kitchen ideas, as well as gray kitchen ideas. Her soft-looking is also an excellent match for the dark cabinet kitchen design ideas. Backsplash selection for manmade Caesarstone Mountblanc 5043 is another pleasure for the keen-eyed interior designers and homeowners: Plain color backsplash ideas are perfect to show the real nude beauty. The choice of backsplash types is as subway tiles, diagonal backsplash with pin connections, pinwheel design backsplash, and honeycomb backsplash tile respectively.
Gallery Technical Details Collection
Installation Tip for Caesarstone Mountblanc 5043: Since her pattern is very homogenous and consists of fine particles, seaming would consider not be easy during installation. Please check your fabricator's previous job similar to Caesarstone Mountblanc countertops.
Caeserstone Mountblanc Quartz Kitchen Countertops in Pictures
As I mentioned in my previous article, Caesarstone Classico, the new series is unfortunately in picture shortage. Based on my research and a generous allowance of Caesarstone Canada and homeowners, I am sharing some of them. My promise is to look for more about Mountblanc countertop and help your kitchen design ideas more doable. Below are the Caesarstone Mountblanc quartz kitchen countertops in pictures for your review.
Harmonious Light Grey Base
Settings Highlight Links Pause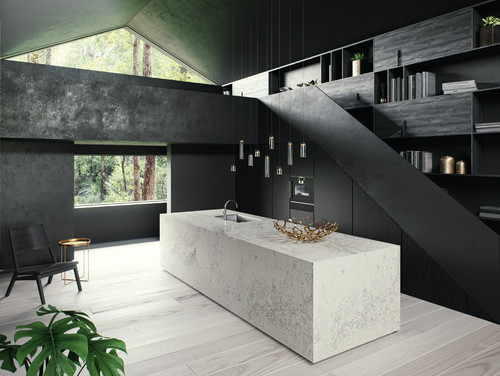 Caesarstone Mountblanc Quartz Countertops Pictures

Picture Credit: diyrob17: Such a good blend! Homeowner goes for the Caesarstone Mountblanc quartz countertop with matching Benjamin Moore simply white cabinets and Daltile Semigloss White Hexagonal Tile. The duet of gray and white performs on the stage.
Supernatural Design Select Locale Complete Guide Quick Answers Clicking Join Full Bullnose Low Maintenance All The Items Stroke Miterlimit Stroke Linecap Regular Detergents Cart Order Sample Kitchen Plan Great Content Slab Shape