Cambria Ella With White Cabinets Ideas
Pampered kitchen remodeling with no maintenance countertop: Cambria Ella with white cabinets ideas. Elegant quartz beauty and fine backsplash. Cambria Ella is a no-maintenance countertop that bonds well with white cabinets and a matching backsplash. The new trend shows that a marble-looking countertop goes with no maintenance countertop. After the selection of the optimized countertop like Cambria Ella, backsplash selection would be a fun project. Usually, marble-looking white countertops would turn into excellent results in white kitchen remodeling.
In Cambria Ella quartz, you will find out some light brown, gray, cream, and white-tone backsplashes. First, I would like to touch on the material and the characteristics of the backsplash. Then, I would like to talk about the color and stain of the white cabinets in this article.
Ella Cambria quartz is a visual guide in kitchen remodeling and backsplash selection. The material of the backsplash can be ceramic, glass, and Cambria Ella herself. The type of backsplash tile would be subway, matchstick, and arabesque or full high backsplash. Modernized Muse: Marble Look Cambria Ella Countertop Countertop can be read if your hunger won't be suppressed.
Cambria Ella White Cabinets Backsplash Ideas In Pictures
Cambria Ella is pretty new in the market. So finding the good picture of Cambria Ella is limited. Enjoy matching backsplash with white cabinets. Since gray is the new white in kitchen remodeling, I have also picked gray cabinets with a full high Cambria Ella backsplash. Here are my picks for your review.
Marble Look Cambria Ella Countertop, Warm White finished White Kitchen Cabinets, Under the Cabinets Kitchen Lightining with Subway and Arabesque Tile
Semi- Gloss White Ceramic Subway Backsplash
Cambria White Hall and Cambria Ella Countertop in Two Tone Countertop Kitchen Remodeling with BM Dove Wing Painted Cabinets and Glass Mosaic Backsplash
Cambria Ella Full High Backsplash with Cambria Ella Countertop, Islandtop, Stainless Steel Appliance and Peppercorn Stained Cherry Cabinets
Kitchen Trio ( Backsplash, Cabinets and Countertop) with Cambria Ella, Glacier White Cabinets and White Arabesque Backsplash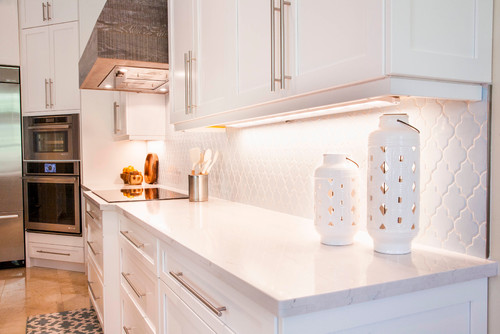 Cambria Ella Quartz Natural Stone With Ella Cambria Quartz
Please do not hesitate to take a turn and drop a comment about Ella Cambria with white cabinets ideas. Thank you for your collaboration and for reading my article.