River White With White Cabinets Ideas
Feel the relaxing flow of the river: River White with white cabinets ideas. The combination of smooth white, cream, and gray movements is speckled by soft light green, burgundy, cream and white. Another "fall in love" kitchen remodeling is for your review. In River White countertop, the duet of the subway tiles with full high backsplash or, arabesque tiles are amazing. You may use some carved inlayed tiles while you have very pale subway tiles. By playing with different tiles, you may bring some extra movement to your flowing countertop.
Let me give first the material and the characteristics of the backsplash then, the color and stain of the white cabinets will be defined under each picture. Soothing Agent: River White Granite Countertops article contains some good pictures for your design ideas.
The backsplash colors for River White Granite White Cabinets Backsplash Ideas can be white, beige, brown and gray tones. The material for the backsplash can be glossy ceramic, glass or stained glass, travertine, natural stone, marble and River White Granite full high backsplash. The type of the backsplash tile would be subway, arabesque, matchstick, mosaic or carved.
 White Carrara Marble Backsplash and White Ceramic Arabesque Tiles and Costen Floor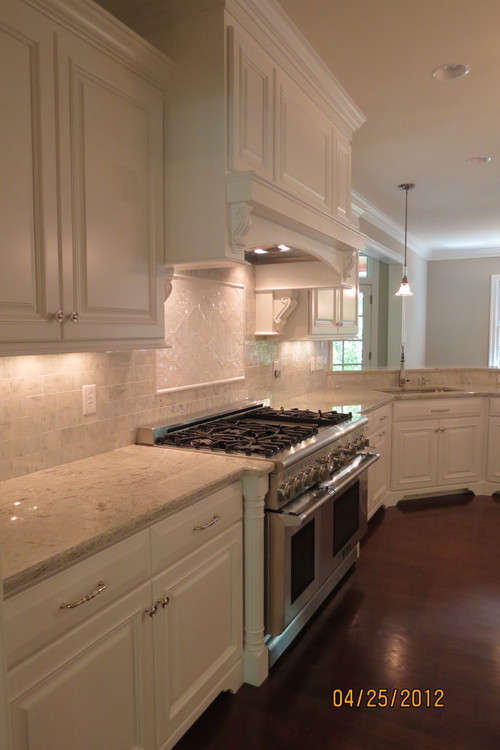 Cashmere White Colors Kitchen Cabinets, Beveled Glass Subway Tile and  Solid Oak Flooring. 
 Raised Breakfast Bar with White Cabinets, Stained Mosaic Glass Tile and Diagonal Set Up Cumaru Flooring.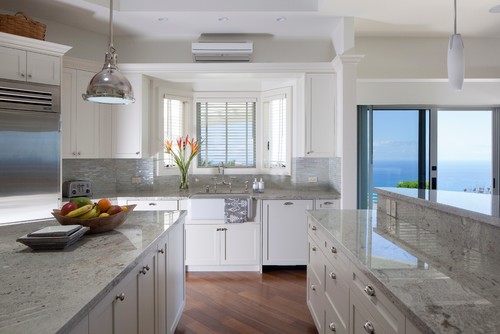 River White Backsplash and Subway Ceramic Backsplash, Dark Tile Flooring, Kitchen Pendants
" alt="" width="500″ height="750″> Picture Credit: Tina Colebrook Architect via Houzz., River White Granite with Brookhaven Nordic White cabinets. Combination of river white granite backsplash and ADKO glass subway tile in Taupe. Dark Flooring and dark pendants rock. Functionality meets elegance.
 White Cabinets, Glass Door White Cabinets, Graphite Glass Mosaic Tiles , Natural Stone Backsplash, White Oak Flooring, Stainless Steel Appliance and Stainless Steel Pendant Lighting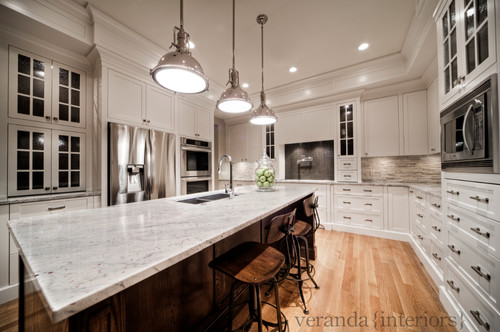 Tumbled Travertine Subway Backsplash , Travertine Inlayed Carved Tiles and Red Oak Flooring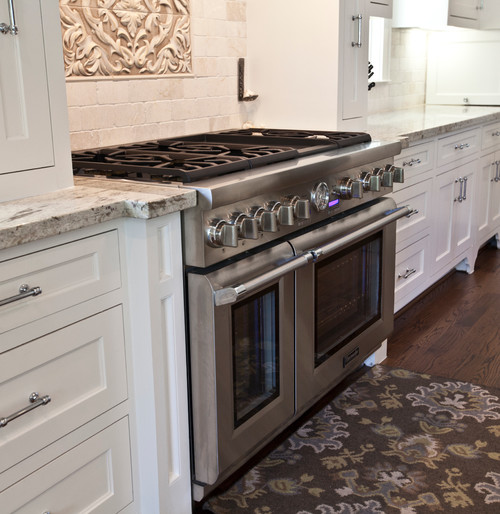 Gray Ceramic Subway Backsplash, White Ceramic Arabesque Tiles, White Kitchen Cabinets and Stainless Steel Vent Hood
Please make this article more readable by dropping a comment about River White Granite countertops. Thank you for your time.