Picture Credit:Furniture Modern Latest Furniture. Ceramic earth tone flooring, rustic vanity, and modern looking windows, very smooth colors.
Bathroom Flooring Ideas
Slippery when wet! The bathroom is the only wet floor in your house. While thinking hard about the bathroom flooring ideas, safety, cleanliness, moisture-holding up capacity and durability take place before the decoration and aesthetic appeal.
In bathroom flooring ideas, those above parameters can be used in the shower floor and bathroom floor itself.
Ceramic Tiles in Bathroom Flooring Ideas
The most common materials for wet flooring are ceramic, marble, granite, and mosaic tile or pebble stone. These materials can be combined or used separately in the shower or in the bathroom floor when bathroom flooring is considered. These are also known as hard tiling. Soft tiling is very old fashion in our days. Rubber, water-resistant carpets, and vinyl cannot keep their popularity for more than a decade.
Heated Ceramic Rectangle Floor Tile with Glass Tile Backsplash , Kohler Porcelain Vessel Sink, Frosted Glass Door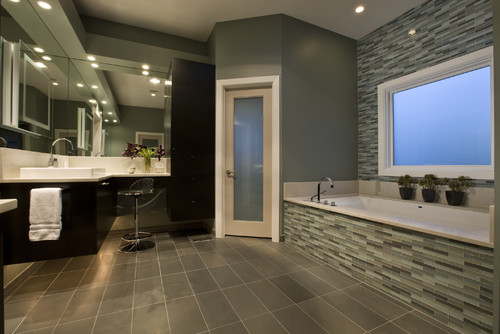 Picture Credit: Michael Abrams Limited. Heated ceramic, rectangle floor tiles match with glass tiles. Kohler porcelain vessel sink and frosted glass door and window make this bathroom very classy.
Filled Travertine Tile Flooring with Glass Mosaic Backsplash Combo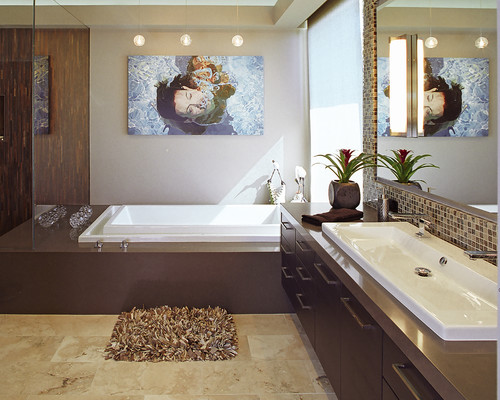 Picture Credit: Zieba Builders Inc. Flooring is very unique, filled travertine. The contemporary bathroom design is completed with a beautiful painting that looks like a picture.
Lime Color Honeycomb Mosaic Flooring Completed with Cream and Green Ceramic Subway Tiles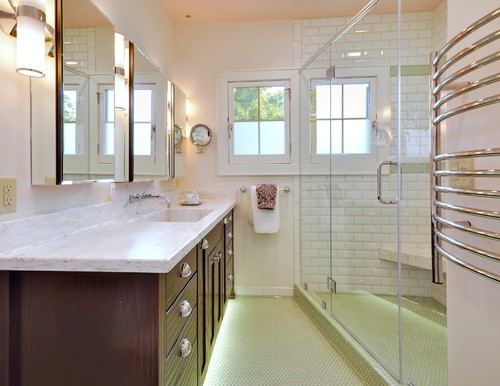 Picture Credit: Htbuilding. Fresh lime color honeycomb mosaic flooring and nice setup, the towel bars are heated.
Porcelain Tiles in Bathroom Flooring Ideas
Your flooring's best buddy is the backsplash or wall tiling. If buddies speak well and understand each other, your bathroom remodeling is very easy and your end work seems dramatic. On the other hand, lighting affects the flooring. Under the worse lighting, your paid well flooring looks serendipity.
Either combining wall tiling and flooring is making an opposite color selection or transition color selection. Remember to follow your bathroom style by adding colors. Regarding your bathroom design, you can add some tastes like adding borders, small connection elements, smooth looking, deep looking, or sharp looking bathroom flooring ideas.
Cream and Black Pebble Flooring and Natural Stone Slab Wall Covering
Picture credit: Home Bunch. Cream and black pebble flooring and natural stone tile wall covering. Very strong freedom feeling.
 Marble Tile Flooring with Borders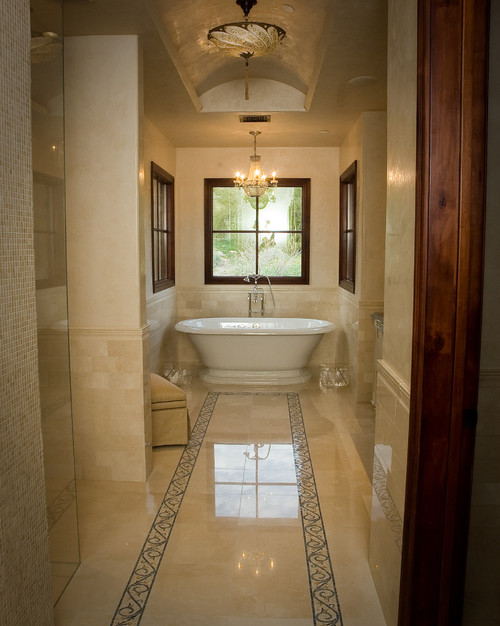 Small Tips for Small Spaces in Bathroom Floor Ideas:
If your bathroom is very small wall tiling and floor tiling should be lighter colors. Your flooring should be covered with bigger tiles or flat surfaces. Small tiles, mosaics, and pebbles make the space smaller but some infinity feeling mosaics keep the eyes busy in your small bathroom and the design has been fitted well.  If you would like to use the opposite colors in small spaces, wall surfaces go for lighter while flooring remains dark. The ideas are endless; I am hoping to see your ideas below the comment section.