Wisdom of Gray: New Caledonia Granite Countertops
Personality and colors are usually matched. When orange indicates happiness, red pokes out of passion, blue brings happiness, and gray votes to wisdom. Wisdom of Gray: New Caledonia granite countertops are one of the best choices in your kitchen remodeling. While she brings wisdom to your kitchen, possesses subtle design. Accents would be bright colors that are walking next to her.
The wise Brazilian beauty, New Caledonia granite is also known as Ocre Itabira or Silver Brown. Her twin sisters are Brown Itabira, Caledonia, Granite Graphite Brown, Marrom Graphite, Marron Graphite, New Caledonia Brown, Brown Caledonia, and Castle Grey. All the countertops share the same feature as like stone-grey coloring and a hazy, speckled consistent pattern. Due to the neutral coloring, New Caledonia granite counter slabs are highly versatile and can be matched with a wide variety of kitchen and bathroom color schemes.
Just a little reminder to understand granite and syenite the below definition would be very important: New Caledonia granite is a coarse-grained, grey-brown syenite of the Precambrian age. This stone internationally may be nominated as a granite but in the area of application of the European Standard, this stone must be nominated as a syenite. New Caledonia granite is frost-free and polish constant. Syenite: A coarse-grained intrusive igneous rock of the same general composition as granite but with the quartz either absent or present in relatively small amounts (<5%).
New Caledonia granite countertops design ideas could go either two-tone cabinets or one-tone cabinets. Floor selection could be either dark or white. This stone goes perfectly with both dark chocolate and espresso-colored kitchen cabinetry as well as creams, whites, and honey maples. The well-distributed variety of colors throughout the stone also makes it easy to match almost any color that is in the kitchen design. When we talk with the customer sometimes we have to think about the resale value of the house in the future at that point if you are having a hard time New Caledonia will be the answer for you. By being very wise, whatever your kitchen remodeling idea is, New Caledonia granite countertops show your taste perfectly.
New Caledonia Granite Countertops in Pictures
I have picked the pictures of New Caledonia granite countertops with a big pleasure. Hope you enjoy looking at them.
Two Tone Cabinets with New Caledonia Granite Countertops, New Caledonia Granite Island Top with Stainless Steel Appliance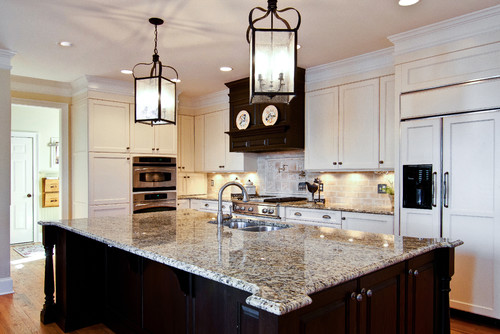 White Cabinets with New Caledonia Granite Counter and Black Appliance
New Caledonia Granite with Two Tone Cabinets and Stainless Steel Appliances
Basement Wet Bar with New Caledonia Granite Countertop
SW Westhighland White Cabinets and Dark Chocolate Stain Birch Island Base, Mixed Stained Oak Flooring, Brick Pattern Subway Tiles with New Caledonia Granite