Cambria Brittanicca With Dark Cabinets Ideas
Excellent contrast in kitchen remodeling: Cambria Brittanicca with dark cabinets ideas. Gorgeous marble-like Cambria Brittanicca goes with gray, brown, and black tone cabinets to show her beauty.  Marble-like countertops are the best matches for dark kitchen cabinetry. In this article, the material and the characteristics of the backsplash, the color, and the stain of the dark cabinets will be shown in the pictures.
In Cambria Brittanicca, the backsplash colors are usually in white tones. Some grayish and beige tones can be used. Even the dark earth tones like terra-cotta red backsplash give perfect turnout if the kitchen lighting is well designed. My Infinity Flow: Marble Like Cambria Brittanicca Countertop article would also be helpful for your backsplash selection. Cambria Brittanicca brings a fresh new look to the kitchen. The material for the backsplash can be ceramic, glass, or Cambria Brittanicca herself. You can use two different materials in the same wall, to make a unique look. The type of backsplash tile would be a subway, matchstick, customized novelty, and mosaic. Backsplash selection for dark kitchen cabinets is a piece of cake after reading my article…
Cambria Brittanicca With Dark Cabinets Ideas In Pictures
All pictures show that designers are being more creative by using the Cambria Brittanica countertop. All cabinet colors and backsplash ideas look very modern and doable. Increase your gratefulness by looking at the pictures of Cambria Brittanicca with dark cabinets by adding a hot tea or coffee for your pleasure…
Novelty Backsplash and Stainless Steel Appliances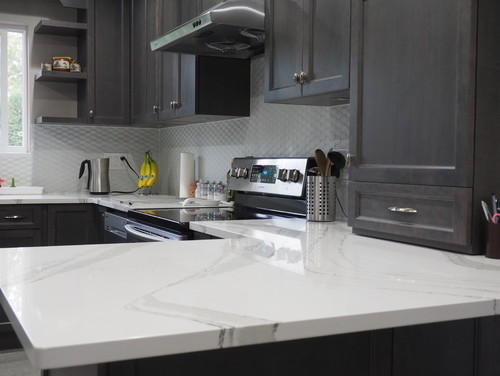 Cambria Brittanicca Island Top and Cambria Brittanicca Countertop with Terra Cotta Red Glass Subway Tiles, Dark Brown Cabinets and  Recess Lighting
Cambria Quartz Countertops With White Cabinets
Dark Gray Glass Door Cabinets, Glass Mosaic Backsplash, French Oak Flooring and Marble Like Cambria Brittanicca Countertop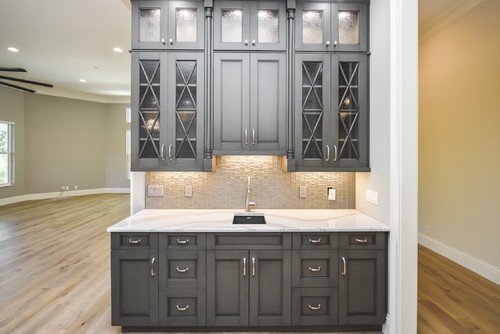 Ceramic Subway Backsplash with Rustic Brown Cabinets and Cambria Brittanica Engineered Countertop
Maple Cabinets with Espresso Stain and Linen Paint, Matchstick Backsplash and Cambria Brittanicca Countertop
Please share your opinions about Cambria Brittanicca with dark cabinets ideas here and take a part of education in kitchen remodeling.